This week gave me two opportunities to witness community giving in Rochester, and I came away impressed.
On Thursday, my friend Pattie and I attended a Nationa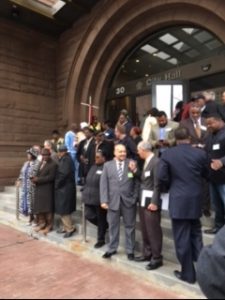 l Day of Prayer event at Rochester's City Hall. People from all sectors of the community came together specifically to pray for our city and the surrounding area. We prayed for the churches, families, schools, businesses, police and fire depts, and political leaders. I estimated the crowd to be about 60 clergy and around 400 lay people. (teens and adults) Mayor Lovely Warren was there as well as County Executive Cheryl DiNolfo. Sheriff O'Flynn was there along with heads of the Rochester  police and fire departments. But I heard no politicking or finger pointing or whining. The whole emphasis was on prayer and co-operation. Pattie and I came away with a new friend from a different walk of life and a mutual agreement to pray for each other.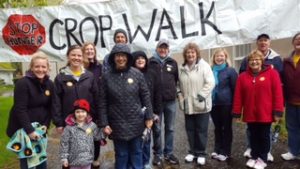 Today I had the opportunity to walk with members of the Webster community to raise money to alleviate hunger. Representatives of all of the churches in Webster participated in the CROP walk, an annual event initiated by Church World Service. Not only did we walk together from the Baptist church in the village down to and around North Ponds Park, but we collected over $3500 which will go to hunger programs, refugees, and disaster relief, both locally and around the world. (25% local, 75% global).
Both events required giving up several hours of free time, and neither day was optimal for being outside; but when has bad weather ever stopped the Rochester community from coming together for good? Did we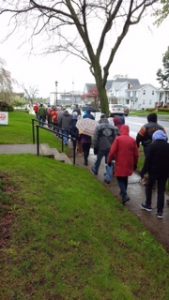 put an end to poverty, hunger, and violence in our neighborhoods? Of course not. But we took some steps in that direction. For me, that was enough to make the effort worthwhile. Won't you walk alongside your neighbors too?