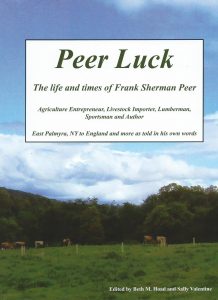 What would you do if you found a memoir that had been hidden for 100 years? What if it told the story of an entrepreneur, a man who lived at the turn of the 20th century, but whose vision went far beyond his time and place. Such a man was Frank S. Peer (1851-1922), and his memoir was a gift to my friend, Beth Hoad, the historian for the town of Parlmyra. It was more than two years ago, when Beth approached me about putting together a book that would bring Frank's story to light. This lover of mysteries couldn't turn down a chance to be involved. Since then, Beth and I have been on a journey to find out more about Frank and his family and to verify and give context to his story. This journey has taken us to libraries, museums, and cemeteries. It also involved hours of online research. Today our journey is finished. Our book, Peer Luck, tells the entertaining story of Frank S. Peer who:
1.  Grew up on a farm on East Palmyra, NY.
2.  Devised a soiling system for his own farm and promoted it all over NYS.
3.  Set up a lumber camp in Michigan.
4.  Made dozens of cross-Atlantic trips to import thoroughbred livestock.
5.  Ran with the hounds in Geneseo and wrote a book about it.
6.  Worked as a deckhand on various Great Lakes ships.
7.  Designed a yacht and raced it in the U.S. and Britain.
8.  Met with Teddy Roosevelt in the White House.
9. Was the son of a Civil War surgeon and promoter of licensed houses of prostitution in Rochester.
10. Was the nephew of a Rochester dentist who died mysteriously of an overdose of chloroform.
11. Set up a Red Cross hospital in Britain during World War I.
Beth and I have printed a limited number of copies of Peer Luck. If you are interested in purchasing the book, email me at RochesterAuthor@hotmail.com or mstgsl@aol.com.