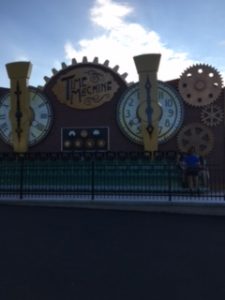 The new attraction at Seabreeze this summer was the Time Machine, and I couldn't wait to try it. I checked it out first, and it looked pretty tame. The rider is always in a vertical position and strapped tightly into a long row of people. No body parts dangling out solo. How did I like it? Let's just say that I came off staggering, and I haven't been back on since.
Actually my whole life this summer has been one of reeling from the passage of time. It started in June with Neil Diamond's 50th Anniversary Concert and culminated last week in my 50th High School reunion (East High School, Rochester, class of '67) and Ken Burns' documentary on the Vietnam War. In between there were two funerals, a wedding, and two grandkids off to kindergarten – all occasions to shed a tear or two. I find myself constantly asking,  "Where have 50 years gone?" or even "Where have five years gone?" Did I mention that I've also been doing research for my next Rochester book which will involve time travel back to the Rochester Orphan Asylum fire in 1901? And I've been re-reading 1963 by Stephen King so that I can learn how to write about time travel from the master. All of which has kept me steeped in nostalgia for the whole summer.
I'd like to say that I've come away with some new profound truth about the fleeting nature of time, but I didn't. I can only echo what's been said before by better writers than I, that while reflecting on the past is not a bad thing, it's wrong to live there. And planning for the future is fine, but we can't put our lives on hold until we get there. Too much time spent in the past or the future robs us of today. I can't do anything about the past, and no one is guaranteed a future, but I can and I will make today count. It helps that I have grandchildren. They have a great way of making me live in the moment, to be fully present for them. It's hard to think of anything else when I'm wrestling a toddler in order to change her diaper or getting ready to catch her sister at the bottom of a slide. So, if you find yourself ruminating about the past, grab a child and take him or her to the playground. I dare you.