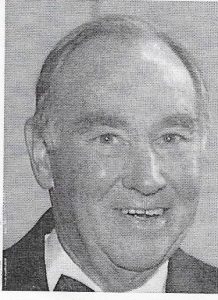 This summer I've been grieving the loss of my cousin and godfather, Lowell McCaw. On the day of his memorial service, we friends and family got together and told and retold Lowell's story and how it intersected our own stories. My testimony goes like this. Lowell became my godfather at the age of 17. Although he was still a teenager, he took that responsibility very seriously. In my earliest years, Lowell was away from home at college or serving in the U. S. Air Force, but he always remembered me at Christmas and my birthday with a special gift that he sent through the mail. My favorite such gift was a red ruffled skirt, embroidered white blouse, and a red leather purse that came from Mexico. The gifts went on until I graduated from high school. At that point Lowell (and Barbara) gave me a suitcase to take to college and told me that this would be the last gift. And it was, that is if you only count material things as gifts. But Lowell's presence in my life went on. There were rides on his boat and holiday get-togethers, quiet talks and family celebrations. He gave me a job reference when I wanted to tutor at MCC. Ironically, I don't remember Lowell talking to me about God at all, but I saw God in his actions: faithful church attendance, service to the church, to the community and to the country, faithfulness to his wife, opening his home to children in need.
So Lowell's story is a large part of my story, but it's also part of Rochester's story too. Lowell joined the faculty of Monroe Community College at its inception in 1961. He helped write a curriculum and a textbook for the Instrumentation program. But Lowell was not an ivory tower kind of guy. He worked summers in local businesses, making contacts in industry so that he could help his students find jobs. MCC is one of Rochester's success stories, and Lowell was a part of that success. By the time he retired as Professor Emeritas, he was responsible for hundreds of Rochester youth not only being employable but also employed.
Lowell was very special to me, but Rochester is full of many special people making a difference in the life of our community every day. I'm part of Rochester's story and so are you. Let's write this story together and make it a blockbuster. I've always been a sucker for a happy ending.