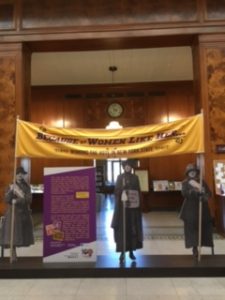 I finally got downtown to the Rundel library to see the display in honor of the 100th anniversary of women's suffrage in New York State. While the 19th amendment giving women the right to vote in national elections was not passed until 1920, New York was the 6th state and 3 years ahead of the nation in allowing women the vote.
Susan B. Anthony figures large in the women's suffrage movement and, along with Frederick Douglass and George Eastman, the most famous person to call Rochester home. We all think we know everything about Susan B. Anthony, but how much do you really know? Here are some little known facts.
 Susan B. was born in Massachusetts to a Quaker family who moved to Rochester in 1845. They came by boat from Battenville, NY along the Erie Canal and settled on a farm at what is now Brooks Ave. and Genesee Park Blvd.
The B in Susan B. stands for Brownell.
There were 15 other women who were arrested along with Anthony for illegally voting on Nov. 5, 1872, but she was the only one who was prosecuted.
The trial was moved from Rochester to Canandaigua because of all the pre-trial publicity.
Anthony was prevented from testifying, and Judge Ward Hunt directed the jury to find her guilty.
Anthony was fined $100, which she never paid.
Anthony did not live to see women get the vote. She died in 1906 at the age of 86 after giving a last speech where she famously was quoted as saying, "Failure is impossible."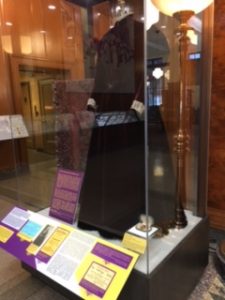 This display is very well done. It will be in Rundel's Hacker Hall until October 14. Go see it if you can. You may even learn something new.