Did you ever go shopping at your own garage sale? I did today. This is what I "bought." These lovely tin trays.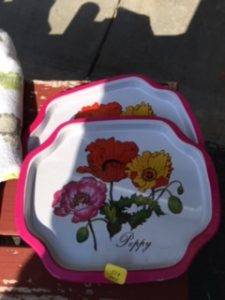 The Gananda community holds a huge garage sale on the second weekend in June every year. It's sponsored by the Walworth/Ontario Rotary, which provides food vendors and port-a-potties, and it draws a big crowd. Cars start lining up on our street an hour before it opens.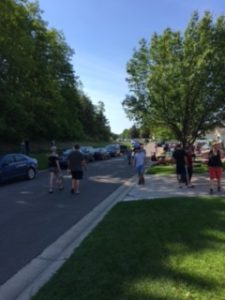 I have to remember not to go outside for the newspaper in my bathrobe.
We don't participate every year, but this year my daughter Kristen had a lot of baby things to sell so she wanted to bring them over and sell them in our driveway. As we were setting up and moving things around in the garage, I spied a blue storage box in a corner. The box was marked "garage sale." Until that moment I had forgotten that I had saved a box of stuff from our last garage sale 2 years ago. I couldn't believe the treasures I found inside. Alongside the trays were some elegant black stemmed glasses and a colorful cake plate. I reluctantly sold them along with a bunch of other less desirable items. But the trays are still mine – at least until the next garage sale.
There were two added bonuses to this year's sale. Our neighbors 4 doors down just sold their house this week, and the new owners came to the sale to meet all the new neighbors. When they introduced themselves, the man's name sounded vaguely familiar. "Did you by any chance go to East High School?" I asked. "Yes, the class of '67. We're having our 50th reunion this year." I still can't believe that my new neighbor is someone I went to high school with and haven't seen in 50 years. We're both going to the reunion.
The other bonus to this year's sale was looking at this satisfied customer. My granddaughter Jane enjoyed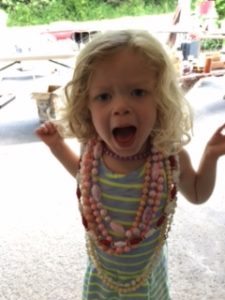 shopping at her own sale too. I guess it runs in the family.