A week ago I went to Opening Day of the Rochester Red Wings. I've been to lots of games over the years but never to Opening Day. It was wonderful. The air was crisp, the sun was strong, and the crowd was hearty. A few fireworks during the national anthem started the game with a bang. The only thing that co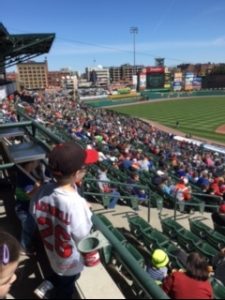 uld have made the day better was the Wings winning. That didn't happen, but we're the type of people who cheer for the home team whether they win or lose, aren't we?
While watching this game with my grandkids, I couldn't help thinking about my favorite baseball game with them last summer. We had gone to a local park to play on the playground, but right next to the playground was a baseball diamond, beautifully groomed and enticing. Evan and Molly (mostly Evan) begged us to leave the slides and swings and play baseball instead. No one else was playing, so Gary and I and the kids spent the next hour on the baseball diamond. We took turns being the batter, pitcher, outfielder and catcher. We wound up for pitches, swung hard, and ran fast. There was just one other thing that made this game so special. We didn't have a bat or ball. It was all done with imagination. When we pitched at the batter, we weren't really throwing a ball, just going through the motions. Same for batting and catching. The only thing that wasn't pretend was the fun.
Evan and Molly will too soon be leaving the land of make believe (both starting kindergarten next fall), but I'll cherish forever this time that I've been allowed to revisit the world where baseball can be played without a bat or ball, disputes are settled over ice cream, and summer never ends.